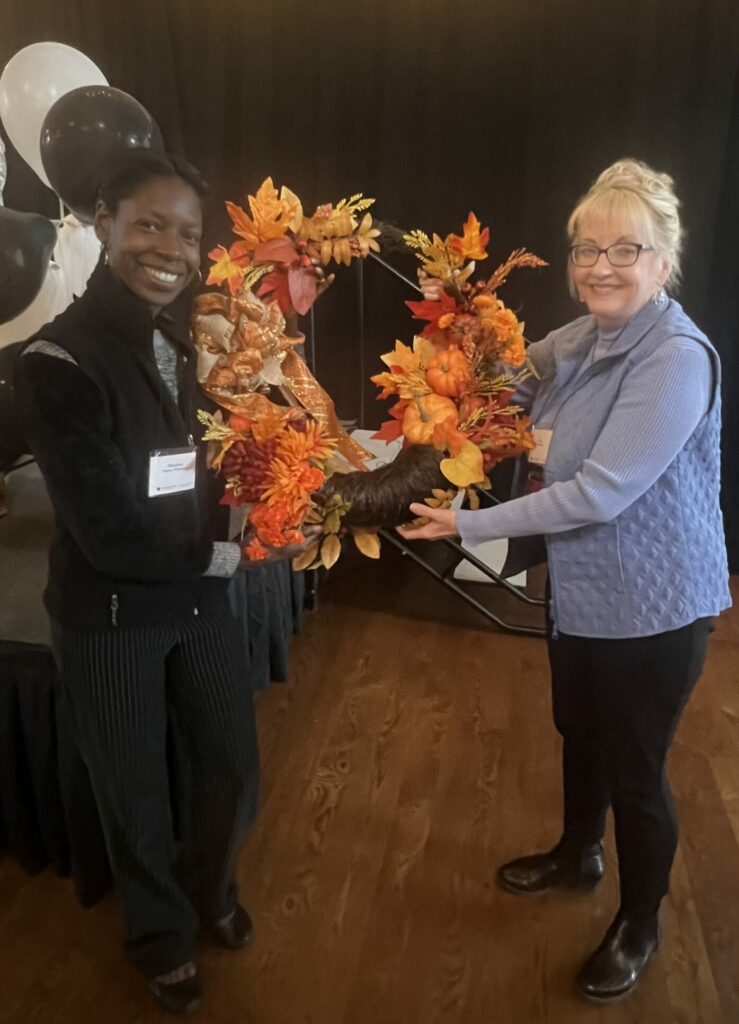 Congratulations to Oneicesa Washington from the Nurse Family Partnership in Forsyth County who won a custom-made wreath as a door prize at the Gravidas at Risk Conference in November! The wreath was made by Membership Committee Chair, Judy Lupo.
Join NCPA or Renew Your Membership Easily and Quickly by Paying Online!
Benefits of Membership
Reduced fee for NC/SC Perinatal Partnership Conference annually
Access to webinars and other continuing education activities available to NCPA members only
Free contact hours/CEUs for participating in webinars
Notification of employment listings throughout the state
Access to the Members Only page on the website
Free 1-year membership by recruiting 3 new members
Download our Membership Brochure 2022.
Membership Recruitment Campaign (ongoing)
Current Members - When you recruit 3 new members, your next annual renewal fee of $35.00 is waived. All you need to do is have the new member enter to write in the"recruited by (name of current NCPA member)" when creating their website profile or the printed membership form. This will allow the Membership Committee to track your efforts and waive your next renewal membership fees. For new members  joining through Paypal, there is a "Referred by" section for you to indicate who referred you for membership. 


The North Carolina Perinatal Association is dynamic and energized for wellness and health promotion for women, infants, and families in North Carolina! If you can imagine what it looks like when like-minded people join forces to learn and grow together as professionals and consumers interested in perinatal issues, then you will want to join us! Whether you see the perinatal world through the lens of the health department, a doctor's office, or hospital setting, you will find our organization well rounded to meet your learning and advocacy needs. The NCPA provides an opportunity to network with other community organizations and resource people who contribute to perinatal care in North Carolina.
We are a diverse group of people united in the desire to improve outcomes for mothers and babies in North Carolina and we invite you to join us!
Facts about Membership in North Carolina Perinatal Association
Formed in 1985, members have faithfully joined together to educate, recognize, and promote good healthcare practices for positive perinatal outcomes in North Carolina.
The multidisciplinary membership of physicians, nurses, social workers, childbirth educators, et al, along with the teamwork between neonatal and perinatal professionals makes the association unique among organizations.
NCPA members receive a discounted rate to attend the annual conference.
NCPA members will receive advocacy alerts pertaining to key legislative issues that need the voice of neonatal and perinatal providers across NC.
NCPA display signs are available to display at workshops, health fairs, and conferences to promote exposure of the Association and increase membership. Members of NCPA are invited to help with our membership table at the annual conference or borrow the display to represent NCPA at one of your local events or educational conferences.
Role of the Membership Committee
Membership committee members are needed to promote the value of NCPA membership in various work places. A goal of the membership committee is to have a membership champion in as many facilities as possible to help us promote the activities of the NCPA. If you are willing to take on the role of "champion" in your workplace, please notify Judy Lupo, Membership Chair at judy.lupo@yahoo.com