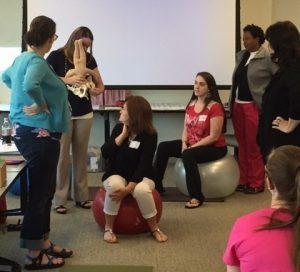 To successfully complete and receive the approved 20 contact hours for the Lamaze Seminar, the following activities are required:
Complete readings, and assignments prior to your scheduled seminar.
Strongly recommended to start your self-study with the Lamaze Learning Guide.  The Lamaze Learning Guide is separate from seminar registration.  It can be ordered directly from the Lamaze website.
Present a 5-minute teaching demonstration (individually or as part of a small group) on the topic assigned by the Program Director during seminar.
Attend and fully participate in the two-day classroom training.
To register for a seminar, complete this form and the Program Director will contact you.
To enhance your childbirth education training, the following activities are strongly recommended:
Observe a childbirth educator teach a complete class series prior to your scheduled Lamaze Childbirth Educator seminar or immediately after.
Using the sample curriculum provided in seminar, develop your personal childbirth education class curriculum.
After you have developed your personal childbirth education curriculum, begin teaching as soon as possible. Options for getting some teaching experience: Ask a Lamaze educator if you can co-teach a class with her. Ask friends or family members who are expecting to participate in a small group class to practice teaching.  If you will be teaching for your organization, set up your classes as soon as you can get clients registered.