The NCPA Lamaze Childbirth Educator Program is an accredited program through Lamaze International.  As an accredited Lamaze International, Inc. Program, the NCPA Lamaze Program offers childbirth educator training seminars that will enable the learner to develop the knowledge and skills to plan, facilitate, and evaluate a childbirth education program.
Eligibility:
This program is open to individuals with non-clinical and clinical backgrounds. A basic knowledge and familiarity with pregnancy, birth, and postpartum information is very helpful before you enroll in the program. The seminar will prepare you to build on your maternal health knowledge by adding evidence-based maternity care information and interactive teaching strategies! After the seminar, learners should be able to offer engaging and interactive childbirth education in various formats to meet the needs of their target population and transform their birth experience!
Program Format: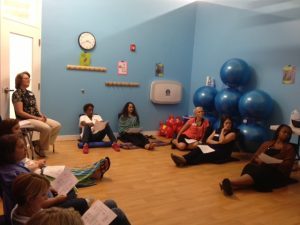 The childbirth educator training program uses a blended learning format, which allows you to start the program prior to the in-person classroom portion. Using the blended learning approach, the first portion of your training will be self-study consisting of online materials, readings, and worksheets in the comfort of your home or office. The self-study portion must be completed before the seminar. The second portion of the training is a 3-day virtual seminar.
Program Costs:
| Choose One | Seminar Fee |
| --- | --- |
| General Registration | $400 |
| NC Local Health Department Staff Registration | $300 |
For more information, email Lamaze Program Co-Director Tara Owens Shuler at ncpalamazeprog@gmail.com or call/text 919-961-0602.